Kernel signs a US$350,000,000 syndicated PXF loan facility
London/Kiev, September 2015: ING Bank N.V. and UniCredit Bank Austria AG (together the "Co-ordinating Mandated Lead Arrangers" and "Bookrunners") are pleased to announce that a new US$350,000,000 Syndicated Pre-export Credit Facility (the "Facility") in favor of INERCO TRADE SA and RESTOMON LTD (the "Borrowers", subsidiaries of Kernel Holding S.A., (the "Kernel")) was signed on 21 August 2015.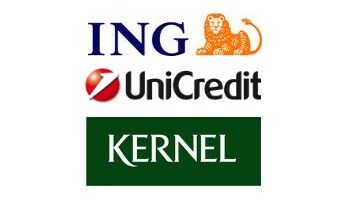 Kernel is a top player in the Ukrainian agricultural market and one of the largest exporters of sunflower oil in the world. The syndication of the new working capital Facility for Kernel was successfully arranged by its core relationship banks.
Despite the uneasy situation in the country, Kernel demonstrates its ability to raise financing from an international group of banks to secure a large portion of its seasonal working capital need. With this Facility, Kernel's core banks continue to support the company's operating and financial performance.
The Facility is structured as a 1 year loan, secured by assignment of export receivables and pledge of commodities and guaranteed by key trading and operational companies of the group.
The new Facility will be drawn to finance Kernel's sunflower seed purchases, storage and processing into sunflower oil and meal to be sold on the export market.
Mandated Lead Arrangers under the Facility are ING Bank N.V., UniCredit Bank Austria AG, BNP Paribas (Suisse) SA and Rabobank International; joined by Arab Bank (Switzerland) Ltd., Black Sea Trade and Development Bank as Lead Arrangers and Citicorp North America, Inc. Banque de Commerce et de Placements, Natixis, EFA Dynanic Trade Finance Fund Ltd and IIG Bank (Malta) Ltd. as Participants.
ING Bank N.V. acts as Facility and Security Agent, PJSC Ukrsotsbank and PJSC "ING Bank Ukraine" act as the Local Account Banks and UniCredit Bank Austria AG acts as the Offshore Account Bank and Local Security Agent.
Anastasia Usachova, Kernel CFO, stated: "The renewal of this facility - along with renewal of USD 230,000,000 grain pre-export credit facility announced earlier this year - completes our refinancing needs for the 2015/16 marketing year. We appreciate the banks' continued commitment to partner with our business despite the challenging times."
Contact Information
ING
Pieternel Boogaard
Evgeny Gaevskiy
Tel: +31 20 652 3018
Tel: +44 20 7767 6015
UniCredit
Christian Eberl
Alvaro Mendez del Rio
Tel. +49 89 3782 9542
Tel. +49 89 378 42115