IIG Bank RMGC Results
Malta, June 2011: The Royal Malta Golf Club 2010/2011 season has drawn to a close following the most prestigious competition of the year the IIG Bank Championship. This 3 day competition is played off scratch and is run concurrently with the Centenary Plate. The format is very clever and maintains an interest for all participants throughout the 3 days.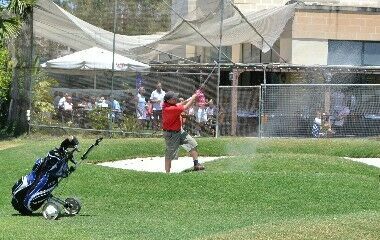 The Championship is for those with a low handicap and as play progresses so it is restricted to twenty seven players on Day 2 and twenty players on Day 3. Those who are excluded join the Centenary Plate which begins day one as a full handicap stroke play for those players with higher handicaps but now the scores, together with the handicaps, of those individuals who have been eliminated from the Championship are include and they can continue for the remainder of the competition.
Andy Borg, Chris Bergedahl and Peter Satariano headed Day 1 and that is where they stayed for the duration of the competition. However not far behind were a mostly more mature flight consisting of Paul Stoner, Alan Aitken and JJ Micallef.
Chris Bergedahl played a dangerous end game on the final day, putting his ball out of bounds on the 16th and the 18th, notwithstanding he hung on to 2nd place. Andy Borg once again showed his superiority with a winning score on each day of 68, 67 and 70 a total of 205. Bergedahl was in contention at the end of Day 2 being only two shots behind Borg and finally finishing with 214. Satariano played exceptionally well and finished third for the second year running with 219.
In the following flight Aitken finished with 225, Micallef with 226 and Stoner with 228.
The winner of the Centenary Plate who had been eliminated from the Championship after Day 2 was Keith Woodward with a handicap score of 203 and second place went to Grigor Khachaturov with 205.
Mr Nigel Stibbs the Chief Officer, Private Banking of IIG Bank (Malta) was on hand to present the generous prizes.
Picture: At the Royal Malta Golf Club.