New account option from IIG
Malta, March 2012: IIG Bank (Malta) Ltd is offering a new account for deposits of €25,000 (£20,000 in sterling and $30,000 in USD) or over, with a three-step interest rate structure for the 18-month term of the account. In the case of euro deposits, the rates of interest will be paid at 4% per annum for the first six month, at 4.15% per annum for the next six, and 4.3% per annum for the last six.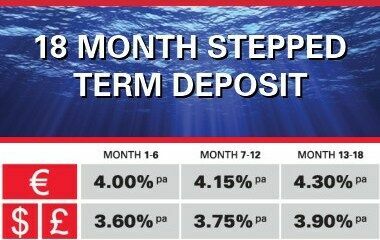 For sterling and US dollar deposits, the rates per period are 3.6%, 3.75%, and 3.9% respectively.
Interest is paid or can be added to the initial deposit at the end of each six-month period and a full withdrawal can be made at the end of the 18-month term. Customers are also able to top-up the deposit at any time in the first six months by up to 50% of the original amount invested.
Nigel Stibbs, Private Banking Chief Officer said, "It is good to be able to offer prospective and existing clients another new product. We are finding that our customers like the choice of 'something a little different' to compliment the excellent range of Term Deposits already available. We are always pleased to speak to interested people and understand their particular requirements and we are confident that a suitable product can be found for them."
The offer is available for a limited period only.
For more information use our contact us page or call +356 22484513 during office hours.