IIG Bank Sponsors Lifecycle Challenge
Malta, June 2012: IIG Bank (Malta) has confirmed its support to the organizers of LifeCycle as a Platinum Sponsor of The LifeCycle Challenge 2012, which this year will take 45 cyclists on the long road all the way from Brisbane to Melbourne, Australia, 2000km in just 11 days, in their bid to raise funds for their dedicated cause. The sponsorships collected will go to acquiring a Plasma Electroforated Machine for renal patients.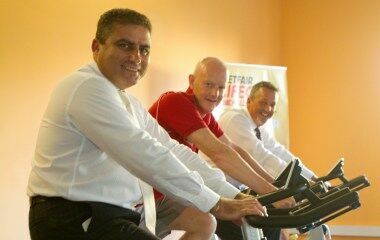 LifeCycle Organisation's mission statement is to help renal patients have a better quality of life with various initiatives including a number of outings and pilgrimage trips abroad to Lourdes. Due to their medical condition, patients are accompanied by nursing staff that are vital to assist the patients whilst abroad.
Last year nearly €120,000 were collected from a number of companies and individuals, funds which were dedicated to the purchase of specialist equipment, a CRRT machine for use by renal patients. This annual event keeps LifeCycle alive in its mission to work in the community offering care for renal patients in many ways, including retaining a top dietitian on a part-time basis so as to help renal patients get a better grasp of how to manage their diets.
If you would like to help The Lifecycyle Challenge, please donate by SMS on 5061 7370 (€2.33), 5061 8920 (€6.99), 5061 9229 (€11.65), or on Landlines 5160 2020 (€10), 5170 2005 (€15), 51802006 (€25).