IIG Bank and RMGC
Malta, May 2010: IIG is proud to be a major sponsor of the Royal Malta Golf Club (RMGC). We have two events on the Men's Calendar and two on the Ladies. For the men, our competitions are:

- The IIG Bank Handicap Challenge in April, a two day stroke play event with the best aggregate score winning the Trophy.

- The IIG Bank Club Championship at the end of May - the season ending event over three days, crowning the Club (indeed, the National) Champion. Our current Champion is Andy Borg, who won the event for a fourth time in 2009.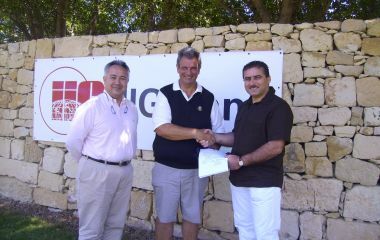 Our first event for the Ladies will be in November - with a competition for teams of 3 ladies. Named the IIG Bank 3 Sixes Shamble, it is a new event and is being played for the first time on the ladies calendar.
Our main event is the season ending event known as The IIG Bank Falcon Cup. This is akin to the Ryder Cup, with the Ladies qualifying for the right to play in this event through their season long efforts. Two exciting days of matchplay golf in a race to 12.5 points.
Also in 2010, we are proud to be a sponsor of the RMGC International Youth Tournament. Taking place at the end of October, 30 European Junior golfers will come over to join the RMGC juniors and take part in a 2 day stroke play competition - we very much look forward to seeing the stars of the future on show at the end of the month. Who knows, we may even get a preview of the golfer who will hold the winning putt in a future Ryder Cup?
Our thanks go to the Board of Management of the RMGC, in particular Paul Stoner (Club Chairman), Ken Micallef (Club Captain) and Joanne Cassar (Captain of the Ladies Section), who accommodate us in our wishes and generously allow us access to the course during our 'sponsor weeks'.
IIG Bank looks forward to being a major supporter of the RMGC for many years to come.
The RMGC website is at www.royalmaltagolfclub.com
Pictured are (from left): David Hu (Managing Partner - IIG), Paul Stoner (Club Chairman - RMGC), Ray Busuttil (CEO - IIG Bank Malta) during the presentation of the sponsorship agreement in May 2010.